Established in the early seventies as SUNRISE COUNTY CANOE EXPEDITIONS - a traditional eastern Maine guiding outfit offering canoe trips - SUNRISE EXPEDITIONS INTERNATIONAL now encompasses itineraries ranging from the vast arctic frontiers of northern Canada and Iceland to the desert canyons of the American Southwest. There continues to be emphasis on exploring unique, and lesser traveled rivers throughout Canada, as well as exotic river itineraries worldwide.
Respected nationwide for combining the best elements of traditional northern guiding and canoemanship, with contemporary whitewater and expedition techniques, SUNRISE has over the years attracted some of the finest professional canoeists and veteran expedition river guides. Catering to a distinct clientele who seek unusual river destinations, our trips are run with integrity - in respect to aesthetics, instruction, and personalized service. Whitewater technique, particularly solo paddling and poling, has been our specialty for over 30 years.
Recommended repeatedly by numerous publications, and used by the National Geographic Society, our quality and style can be attested to by our clientele, many of whom come back loyally, year after year, to try new and different rivers.

You've seen our trips featured on ESPN, PBS's Anyplace Wild, Lonely Planet as well as Outside Magazine, Men's Journal, Canoe & Kayak, Field and Stream, and more.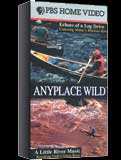 On Television:
Anyplace Wild, Trailside, Lonely Planet,
Maine PBS, Made in Maine and ESPN.
For more information or to order contact us at: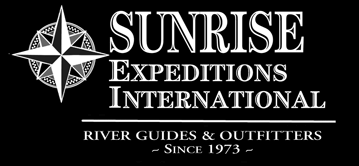 4 Union Plaza - Suite 2 • Bangor, ME 04401 • U.S.A.

800-RIVER-30
(207-942-9300) • Fax: 207-942-9399
Home | About Us | Catalog Request | Bookstore | Rates & Dates

All Photography within this website is copyrighted by Martin Brown and may not be reproduced without permission.