SUNRISE EXPEDITIONS
- a leading specialist in wilderness canoe trips and river expeditions - was established in 1973 as Sunrise County Canoe Expeditions. With origins as a traditional Maine Guide and commercial canoe outfitter in Downeast Maine, MARTIN BROWN & SUNRISE evolved into a niche resource in the realm of adventure travel offering trips and expedition services for open canoe enthusiasts on a wide range of wilderness rivers throughout North America and worldwide - from the vast northern frontiers of arctic Canada ... to the desert canyons of the American Southwest. Traditional canoe trips are now offered in MAINE, QUEBEC, NORTHERN CANADA (NUNAVUT, NORTHWEST TERRITORIES), RIO GRANDE, UTAH CANYONLANDS, ARIZONA. Inn to Inn River Touring Itineraries include the HIGHLANDS OF SCOTLAND, NORTHERN PORTUGAL, & SOUTHERN FRANCE.
Exploration has always been a specialty. 50 years of continuous operational experience - literally thousands of commercial expeditions - handling difficult and unconventional physical logistics has produced a legacy of adventure, innovation, and resourcefulness. Although an international reputation was developed for pioneering exotic rivers (including many first descents), our heritage is still based on our home rivers in northern and eastern Maine - and the skills and traditions of the Maine Guide.
With clientele spanning several generations, Martin Brown and his network of veteran expedition and travel professionals have become known and respected for maintaining an uncommonly high commitment to individualized and thorough service. Aside from guiding thousands of private and corporate trip clients, Brown and his staff have also been utilized repeatedly by numerous national publications and media; projects have included work done for ESPN, Lonely Planet, National Geographic, PBS, Trailside, NBC, The New York Times, and numerous others.
Corporate, Custom & Family Arrangements are a specialty.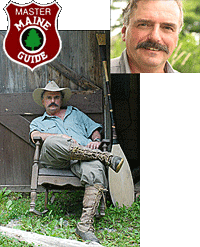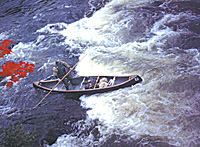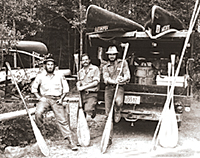 MARTIN BROWN has a proven track record as a leading guide and outfitter with a working knowledge of rivers throughout North America and around the world.
A Master Maine Guide since 1970, Brown founded SUNRISE COUNTY CANOE EXPEDITIONS in 1973, which later evolved into SUNRISE INTERNATIONAL - a widely acclaimed river expedition company with a reputation for pioneering exotic rivers... from the Arctic to the Rio Grande.
Brown's nearly 50 year career as a professional river guide includes canoe guiding on whitewater rivers ranging from Eastern Canada (QUEBEC, NEWFOUNDLAND, THE MARITIMES) and the Canadian North (NUNAVUT, YUKON, UNGAVA, NORTHWEST TERRITORIES) to the desert canyons of the American Southwest (RIO GRANDE, UTAH, ARIZONA). Internationally, Iceland was pioneered in the early 90's; inn to inn river touring was introduced in the lesser traveled regions of Europe - including Northern Portugal, the Highlands of Scotland, and Southern France.
Many of these expeditions were "first descents".
Brown's guiding work now focuses on the rivers of his home state of MAINE. Along with other veteran Maine Guides, classic Maine canoe trips are offered on the moderate whitewater rivers of Down East and northern Maine. In 2004 he was awarded the Maine Governors Special Award for Tourism in recognition of many years contribution to outdoor recreation in Maine.
However custom river-based itineraries may also still be arranged in any of the areas mentioned above.
Martin Brown is also a widely published commercial and location photographer, with an extensive journalistic background. His work ranges from corporate imagery to national editorial coverage, with print credits including work for L.L. Bean, Georgia-Pacific Corp., Time-Life Books, U.S. News and World Report, Outside Magazine, Backpacker, Travel & Leisure and Men's Journal. In recent years his most popular images, derived from his years of travel as a river guide, have appeared in a series of calendars "Rivers - Expeditions & Explorations" published by Tide-Mark Press. Brown now serves as a location scout and logistics coordinator for media. For more info, please reference: www.MartinBrownPhoto.com
"... for nearly four decades... creating some of the most memorable canoe images ever recorded on film."


Paddler Magazine