Classic Maine Lakefront
Property For Sale
Directly on Shore of Spring Fed
CATHANCE LAKE
~ Historic 3.5 Acre Compound ~
Cottages, Land, Camping Areas
In the Interior of Downeast Maine
Zoned General Development
With a substantial portion of the lake having protected
"Forever Wild" status via an easement by the Nature Conservancy
Spectacular 3.4 acre historic waterfront property on pristine Cathance Lake - one of the most

desirable lakes in the interior of Downeast Maine. Situated in WASHINGTON COUNTY, MAINE, which lies at the easternmost tip of Maine and the nation, (hence nicknamed the "Sunrise County".) This distinct and rugged corner of Maine, generally referred to as "Downeast," is 2 1/2 thousand square miles encompassing virtually every aspect that is Maine: vast expanses of deep woods and glacial heath, clean lakes, sparkling streams, and whitewater rivers running to the sea, surrounded by over 1,000 miles of spectacular Maine coastline.
CATHANCE LAKE is a large (over 3,000 acres) spring fed lake lies in the heart of this Downeast interior. Considered one of the premier deepwater lakes in the region, Cathance Lake is relatively undisturbed and known for the quality of its water and its excellent landlocked salmon fishing. The sound of loons characterizes the lake, and the occasional bald eagle may be seen overhead. Significantly, a substantial portion of the lake has been granted protected "Forever Wild" status via an easement by the Nature Conservancy. The view looking out from the compound is that of miles of uninterrupted spring fed water and wild shoreline. The specific location is on Route 191 in Cathance Township, (Central Washington County Unorganized Territories) - approximately 100 miles east of Bangor, Maine and a half hour north of the Maine coast and the county shiretown of Machias. The Maine/New Brunswick border, gateway to the Canadian Maritime provinces, is a 25 mile drive to the northeast.
THE PROPERTY: SUNRISE COUNTY CANOE EXPEDITIONS, established in 1973 and known as an icon of the Maine Guide legacy, utilized the property at Cathance Lake as their Eastern Maine Base Camp for canoe outfitting for over 40 years. Quiet and relatively secluded, with an unrestricted view of the lake, this historic Maine outfitting camp has now reverted to a private compound. This spectacular property is approximately 3.4 acres with docks, wooded trails, two camping areas, garden, and several outdoor fireplaces. It is rustic, though well-kept, with buildings and artifacts dating back to the early 1930's. The entire property has an ambiance and atmosphere that have attracted visitors to return for decades. Picturesque and classic in appearance, the premises have actually been used several times over the years as a shooting location for film and advertising.
Ideal for a family compound (3 camps) or limited commercial usage, (e.g. campgrounds, marina, canoe/kayak outfitter, rental income, natural retreat, etc.) this grandfathered, classic lakefront cottage compound offers a large private property - directly lakeside, with plenty of room, privacy, waterfront features, and diverse landscaping, to relax and enjoy one of the most spectacular lakeside settings in eastern Maine.
SALE OPTIONS
Entire 3.4 Acre Historic Lakefront Compound at $379,000
Joint Ownership - With exclusive rights to
Manager's Cottage - $245,000
(Includes the well established and documented rental income)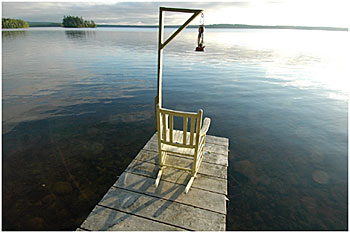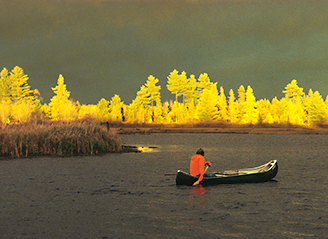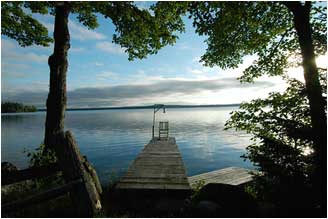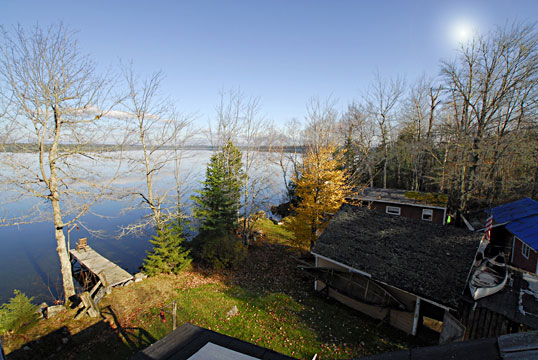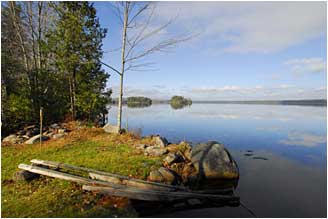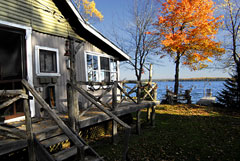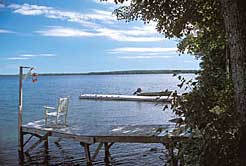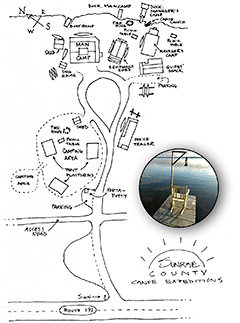 CLASSIC MAINE LAKEFRONT COTTAGES FOR SALE
Historic Compound on Spring Fed Lake
PROPERTY SPECIFICS:
260' water frontage on west shore of Cathance Lake, with an unrestricted view of the lake. Cathance Lake, is spring fed. It is considered one of the cleanest and finest deepwater lakes in Maine, with a substantial portion of the shoreline protected with "Forever Wild" status via an easement by the Nature Conservancy.
All buildings, (including two residential cottages, the guide's camp, equipment building, woodshed, etc.) grandfathered 5' to 30' of the lake (deck of the manager's cottage is within 5' of the water.) Oldest residential camp dates back to 1930. Total of 6 bedrooms on property, 3 kitchens, 2 baths.
412' road frontage, with potential square footage for another building site, off Route 191.
Property is over 450' deep, with two intersecting access roads, a large parking lot off Route 191 (8-10 cars).
Several rustic outbuildings, including lakeside storage garage, woodshed, garden shed, and a 40' office trailer with deck.
Two docks: 30' floating dock directly in front of the Manager's Cottage, with an Adirondack bench; and the older "icon" dock, and rocker in front of Main Camp. Small boat launching ramp. Small protected shallow entry in front of the camp.
Two camping areas, one surrounding a garden area, with a dining area and tent platform; the other, connected by a trail, is secluded under mature white pines.
Property has some degree of elevation leading back towards the road, with public areas and trails having been well maintained with a natural aspect.
Two outdoor fireplaces, one directly on lake shore, one in garden/dining/ camping area.
Septic system, designed and installed with a grant from the State of Maine, pumped back towards county road, with large drainage field.
Three security lights (two installed by local power utility) spaced along access road along depth of property.
3 independent electric services, two bulk propane tanks, plus cylinder back-ups. Large woodstove with fireplace doors in Maine camp. The three camps all have professionally installed plumbing, hot & cold water.
Rustic cedar rail canoe racks and decking.
Documented seasonal rental income. (Details on rental cottage featured below.)
Zoned General Development - light commercial usage permitted. State Boat Launching area approximately 1/4 mile north of property.