We know that planning a trip is half the excitement. To help you prepare - or just foster some dreams - we've assembled some of our favorite books for your enjoyment.
Canoe Country Reflections (Reflections of the Wilderness) ~ Larry Rice

Larry Rice has traveled the globe (including several trips with Sunrise). Here are reflections on some of his canoeing adventures.

Path of the Paddle - Bill Mason

One of our favorites. Not only is it a great how to guide on canoe handling, it is an excellent read for those long winter nights. The book imparts Bill Mason's love of the canoe. Written by a true legend in canoeing and wilderness filmmaking.

Also - Song of the Paddle : An Illustrated Guide to Wilderness Camping - Bill Mason

The Complete Wilderness Paddler; James West Davidson, John Rugge (Contributor)

This classic guide to canoeing in remote waters has chapters on safety, outfitting a trip, and navigation. In addition, it lists a variety of possible situations for different water conditions, including ice, riffles, and whirlpools. Thorough and lively, this is a great resource for anyone who prefers paddling in the wilderness.

Appalachian Mountain Club guide to Maine's rivers.

The Survival of the Bark Canoe ~ John McPhee

In an age of mass-produced and disposable objects, traditional crafts are becoming extinct, and appreciation for craftsmanship has become a hobby for the wealthy dilettante. But here and there, a few stalwart individuals carry on the old traditions. Henri Vaillancourt of Greenville, New Hampshire is in large part responsible for the continuing survival of the birch bark canoe. McPhee tells the story not only of Vaillancourt and his work, but of the canoe's role in American history. Many McPhee fans consider this lovely and lucid book one of his finest works.
Fodor's Maine, Vermont, New Hampshire (4th Ed)
Frommer's Vermont New Hampshire & Maine
The Insiders' Guide to Maine's Mid-Coast
The most complete guidebook to this storied region.
Maine - An Explorer's Guide (8th Ed)
The Maine Woods ~ Henry David Thoreau
Great River : The Rio Grande in North American History/2 Volumes in 1/Vol 1 : Indians and Spain, Vol 2 : Mexico and the United States -- Paul Horgan
One of the major materpieces of American historical writing. The two volumes are a continuing delight, far better than any historical novel. Scene succeds scene, filled with movement, passion and unbelievable heroism. Won the Pulitzer and Bancroft Prizes for History, and is considered the greatest history of the Rio Grande from pre-Columbian time to mid 20th century.
| | |
| --- | --- |
| | Rushing out of southern Colorado's San Juan Mountains, the Rio Grande is a river of many faces. Learn more about this magnificent waterway, including where to wet a line in both Colorado and New Mexico and what flies to use, from this edition of the River Journal series. The book's large, color format, sumptuous photography, and lively, descriptive text bring the river and its angling possibilities to life. Like other volumes in this series from Frank Amato Publications, the river's history, wildlife, hydraulics, and fishing conditions are described in detail for the angler's benefit. |
Lonely Planet Iceland, Greenland & the Faroe Islands (3rd Ed) -- Deanna Swaney

Readers are invited to explore the world's last great northern wilderness with the most comprehensive guide to the region--and the only guide to feature the Faroe Islands. The book includes trekking routes through volcano landscapes, spectacular glaciers and thermal springs, and a language section covering Icelandic, Greenlandic, and Faroese. color. 85 maps.
Iceland : Land of the Sagas ~ David Roberts, Jon Krakauer
From the author of Into Thin Air. Circumnavigating Iceland in summer and winter, Krakauer and Roberts encounter tales of monks and Vikings, outlaws and adventurers, trolls and witches. While touring and photographing, they discover the myths and legends of Iceland's stirring history. Numerous other feats--including a hazardous winter climb to the summit of one of Iceland's tallest mountains--round out a fascinating introduction to this unique and beautiful land.
Nunavut / Baffin Island
The 1999 Nunavut Handbook; Travelling in Canada's Arctic -- Marion Soubliere
The difinitive handbook. Everthing you need or want to know.
Adventure Travel
The Big Book of Adventure Travel (3rd Edition) -- James C. Simmons

One of our favorites - primarily because it has a nice feature on our founder, Martin Brown. There are more than 400 adventures listed-everything from kayaking the Grand Canyon to hanging out with polar bears in Canada to trekking in Tanzania. This book shows you that adventure travel can be easy, affordable, and-you guessed it-adventurous.
Looking for more? Try searching for it at Amazon.com
For reservations and other information contact us at: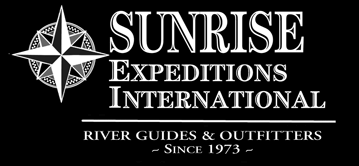 4 Union Plaza - Suite 2 • Bangor, ME 04401 • U.S.A.
800-RIVER-30
(207-942-9300) • Fax: 207-942-9399
Home | About Us | Catalog Request | Bookstore | Rates & Dates