Interior Highlands:
Pjorsa, Tungnaa & Vatnakvasl Rivers
Volcanic Hiking & All Terrain Touring
July 27 - August 5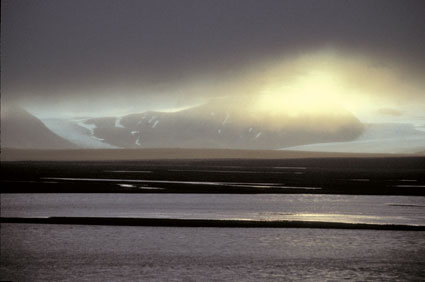 A jewel of primeval beauty in the North Atlantic, Iceland remains amazingly undiscovered. Nowhere on earth are the forces of nature more evident than in Iceland. Its geography displays the most spectacular chronological range on the planet - black lava and active volcanoes stand contrasted against massive white glacial ice caps. It is truly a land of awesome natural phenomena, geothermal and visual – geysers, waterfalls, hot springs, fumaroles, calderas, some of the world's oldest and newest rock formations, the midnight sun, aurora borealis, and arctic mirages.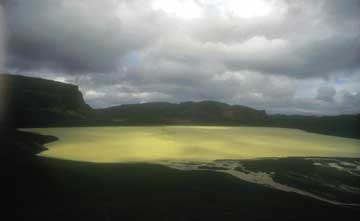 The rich cultural heritage, expressed in the famous Icelandic Sagas, dates back to the early medieval era of Nordic and Celtic settlement and discovery. In August of 1994, we conducted several first descent river explorations in the interior of Iceland -one of the few regions remaining on earth overlooked by the adventure travel/river running community.
The interior, vast and intensely surreal, remains uninhabited. It's a stark and imposing landscape; characterized by immense black lava deserts, volcanic craters, tundra, sandur, snowcapped peaks, glaciers, ice caves, and bizarrely shaped headlands. In the heart of this wild interior lies the sprengisandur ("exploding desert") - perhaps the most desolate, harsh and spiritual region of all - in the Sagas it was the mystical home of legendary outlaws, elves, and mythical creatures.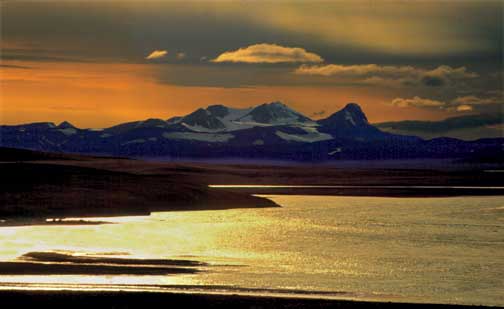 Pjórsá River
Totally uninhabitable, most of its dramatic rivers, both glacial and spring fed, are typically unnavigated…and unexplored due to both their remoteness, and an historical inclination to avoid the unpredictable interior waterways. In August 1994, we conducted explorations on two rivers; the Pjórsá (Theor-sho), and the first descents commencing right at the glacial source.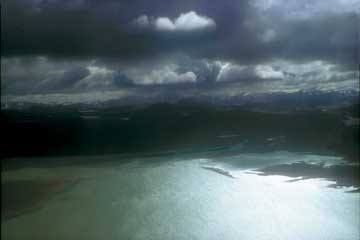 The Pjórsá, adjacent to the glacier Hofsjökull, featured spectacular gorges, and miles of moderate Class II whitewater. The lunar-like Tungnaá, originating from under Europe's largest glacier, Vatnajökull, flows highly braided through a singularly strange and eerie black valley -one of the most unusual appearing rivers anywhere. We later added another river to our itinerary, the crystalline and serene, spring-fed Vatnakv-ïsl. Our time in the interior is divided between these rivers; with a layover day at Landmanalaugar, (a national preserve known for it's incredible volcanic mountain vistas, superb hiking, and welcoming hot springs. Access to these desert highlands is via an all-terrain "lunar-bus".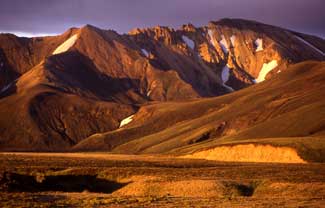 From a professional standpoint, we regard our Icelandic Safari as one of our most unusual river excursions to date. The rivers differ substantially from one another - both in terms of surrounding landscape, and the nature of the whitewater. Although in recent years we have not run anything much more technically difficult than Class II+, climactic conditions could potentially make the trip more formidable. We intend to continue to explore new and different rivers every year. Thus, it is entirely possible that no two expeditions to the Icelandic interior might ever be the same - participants should definitely be prepared for unexpected adventures.
Our excursion also includes an introductory first day's tour of several of Iceland's classic natural and historic highlights. This trip culminates in Reykjavik - the world's most northerly capital, and a surprisingly lively, cosmopolitan city. The last night's accommodation is at the Hotel Borg - a first-class, old-world style hotel, which is included in the trip price.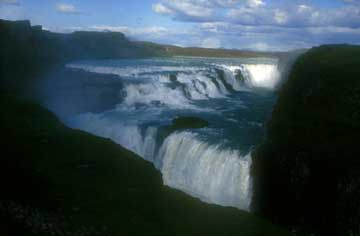 $4200 ($7700 for two) (from Reykjavik)
$1200 Deposit Required, Family and Group Rates Available
Prices may be subject to change due to currency fluctuations
Click here to download Itinerary & Logistics (pdf)
Click here to download article in Men's Journal magazine
For reservations and other information contact us at: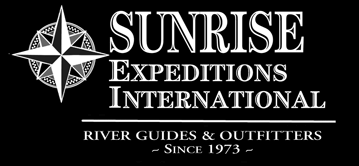 4 Union Plaza - Suite 2 • Bangor, ME 04401 • U.S.A.
800-RIVER-30
(207-942-9300) • Fax: 207-942-9399
Home | About Us | Catalog Request | Bookstore | Rates & Dates